Individualized Education Program (IEP)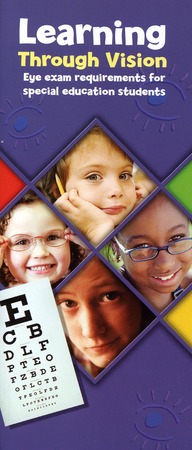 Parents of students referred to an Individualized Education Program (IEP) should be familiar with Ohio law which requires that within three months after a student identified with disabilities begins receiving services, the child is required to have a comprehensive eye examination by an eye doctor.
Ideally, all children would have a comprehensive vision and eye health examination before starting school as 70%* of learning is through vision. A comprehensive eye exam by an eye doctor – optometrist or ophthalmologist - can detect vision problems. Correcting these vision problems could help improve a child's performance in school.
Parents are responsible for scheduling the appointment with an optometrist or ophthalmologist, making sure the eye doctor sends a copy of the exam form to the school, and checking with the school administrator to ensure that the eye exam form is in the child's file.
>> Click here to download more information about IEP's. <<
>> Current List Of Ohio Optometrists Who See IEP Patients <<
>> IEP Eye Exam Form 2015 << (Doctors Form)
*Narayanasamy, Sumithira, et al. Visual demands in modern Australian primary school classrooms. Clinical and Experimental Optometry 2016; 99: 233-240