Foundation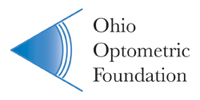 The Ohio Optometric Foundation is a not-for-profit Ohio charitable corporation chartered in the state of Ohio for the purpose of accepting and administering charitable donations to improve the visual health and welfare of Ohio's citizens. These donations fund grants, scholarships, and programs to promote public awareness of the importance of a lifetime of comprehensive eye care.
Make a Difference:
Make a tax-deductible donation to the Ohio Optometric Foundation and ensure a lasting legacy that emphasizes the importance of eye care and vision education.
Ohio Optometric Foundation focus:
Improve the vision and eye health of the citizens of Ohio
Provide opportunities and resources for children and underserved individuals to obtain eye care
Educate the citizens of Ohio to make informed decisions regarding eye health



Other ways to Donate to the OOF:

Kroger Community Rewards. Go to www.kroger.com/communityrewards and sign up with your Kroger Card. Kroger will donate to the OOF with every purchase you make at no cost to you, and you still earn the same fuel points.

Amazon Smile. Amazon will contribute 0.5% of your eligible purchase to the Ohio Optometric Foundation. Go to www.smile.amazon.com. Amazon Smile is the same as Amazon, with the same products and prices. Remember to sign in to Amazon Smile (not Amazon) before you make your purchase.
OOF in the News:
The Columbus Foundation and their "Power Philanthropy" Website

http://tcfapp.org/Show/Ohio_Optometric_Foundation
Board of Directors
Dr. Tracey Needham (President)Dr. Cheryl Archer
Mr. John ArtMs. Stacey Borowicz, Esq.Dr. Gregory HicksDr. Robert HillMr. Keith Kerns Esq.
Dr. Donald Murphy
Dr. Dennis Roark